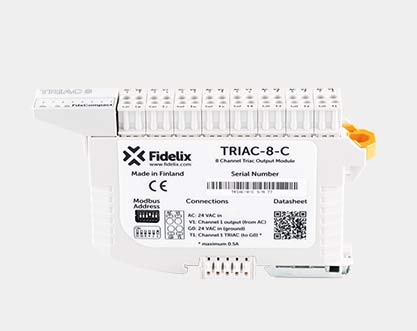 TRIAC-8-C
Analogue output module, 8 outputs.
Analogue output module, 8 outputs
Full control, ultimate compatibility
The FX-3000-C is a building automation controller with BACnet B-BC profile. Unique in its kind, it is 100% freely configurable. It communicates using Modbus, M-Bus or BACnet, serial, UDP or TCP and has an on-board NAT router. Fully equipped with web server, history recording, user management, energy reporting capabilities and many more features, the FX-3000-C is an all-you-need solution for all your building management needs. Parametrising the FX-3000-C is done with our software suite FX-Editor, offering a clear and efficient project overview. It makes programming the controller not only an easy, but also a speedy task. When connecting field devices to the FX, multiple FX-controllers to each other, and all controllers to a SCADA server, running a building really becomes a piece of cake.
Files