For complete control of equipment. From anywhere, at any time.
Measures, controls and optimizes – by far the easiest IoT solution to use.
Smart IoT is a cost-effective IoT system developed by Fidelix for the easy control of equipment over an information network.
With Fidelix Smart IoT, devices connect automatically to the Fidelix cloud platform. This solution can be used to control practically any device with a bus connection.
IoT, or Internet of Things, means network-connected machines and devices that communicate with and observe their environment, and that can be controlled over the Internet.
The IoT system makes remote control easier than ever.
Its scalable platform is just as ideal for individual applications as for the control of extensive systems
Control and comparison of several sites is easy based on a centralized control room
Building Management Sofware is offered as a service (SaaS), eliminating the need for maintenance by the user
Secure connection through a GeniLink module (Ethernet or 3G/4G)
Establishing a connection during the installation phase is quick and easy with the help of the module's QR code: after the code is read, the bus-connected device will be connected to the EasyGate cloud
Browser-based user interface: control is possible with all of the most common terminal devices
Data from building automation and subsystems can be combined and utilized in the optimization of energy consumption, for example.
Superior ease of use
Set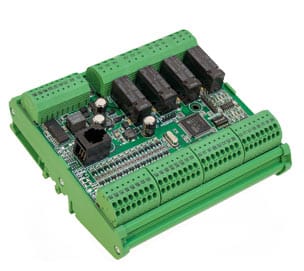 See