Why Partner with Fidelix?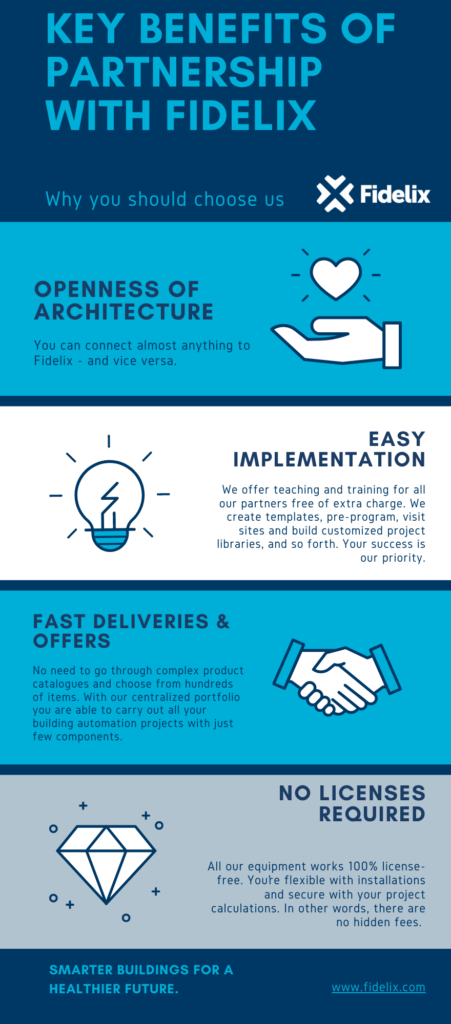 Our versatile BMS-controllers, I/O-modules, unitary controllers and HMIs are used in a wide range of building automation systems. They ensure efficient instalment and easy monitoring for your end-users – the building owners.
What differentiates us from several other BMS manufacturers is the fact that we are also integrators. Thanks to our experience and knowledge in integration, we understand our integrator partners' challenges and perspectives to the core.
We've completed over 30 000 Building Automation Projects, ranging from less than 50 to over 100 000 data points. We have end-users in hotels, hospitals, business and industrial premises, blocks of flats – to name a few.
Additional benefits enabling your efficiency and successful BMS projects
Local presence
With our local presence we want to make sure you get the help you need, when you need it – with the right person. Nothing can be more frustrating than being stuck in a faceless customer support vortex. In order to help our customers efficiently, we at Fidelix focus on human-to-human interaction.

Continuous development and support help you succeed
We stand ready to help you. Helping you succeed and do your job the best possible way is in our DNA. Free continuous consultation and training is something you get as a given when working with Fidelix. We calculate offers and optimizations, visit our clients on-site, response to your questions, solve problems hands-on to make your day-to-day work easier.
As a manufacturer and integrator, we are at the forefront of the BMS business. With our hands-on experience, human-to-human approach, and market-leading versatile BMS technologies, we know how to make your business succeed.
What does partnership mean to us and why should you partner with Fidelix?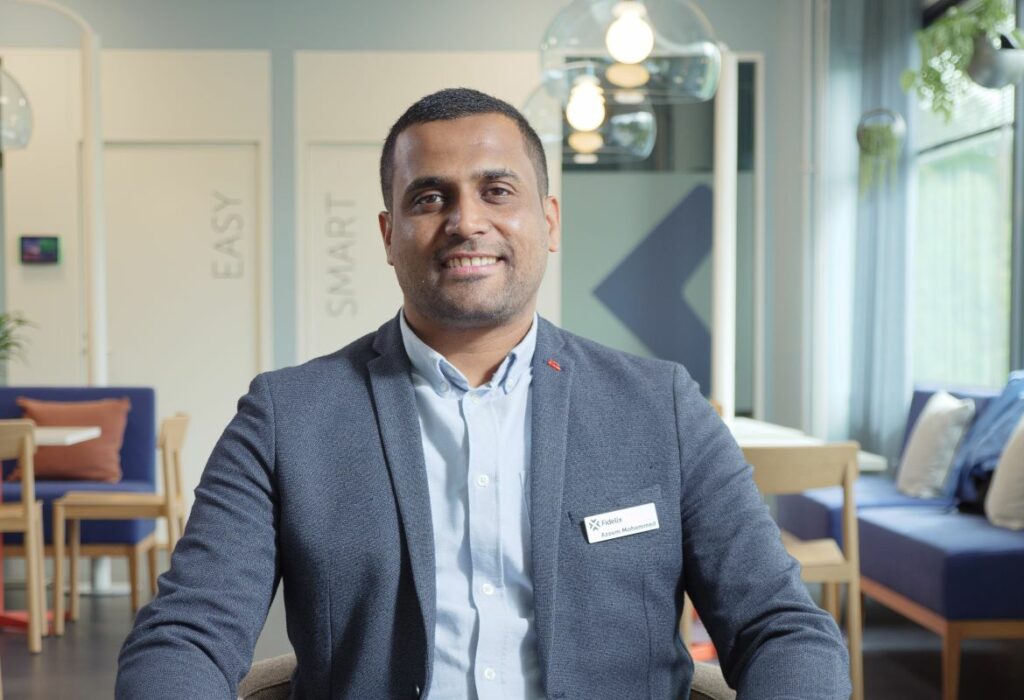 5 facts about us
1. Training

We have a free online training platform that you can use to learn and refresh your Fidelix skills. We also offer tailored and personalized training for our partners to implement their projects effectively. Our expert usually spends 2-3 days with your engineers going through the Fidelix software with the help of the actual hardware.
In other words, we don't just leave you with a manual, but walk our clients through the programming process. In most cases the training in based on a specific project with a hands-on approach. We go through the best programming practices and good logic for the particular system in question. With the help of our free training you can guarantee better profitability for your project, as programming is done efficiently and without costly mistakes or delays.
The training can be organized online or face-to-face – whichever way you prefer. For online meetings we can deliver you a hardware demo (e.g. a display and a room controller), which we will go through together.
2. References

With the help of our partners, we've designed and installed tens of thousands of successful automation projects. Our consultation and design expertise are of top-quality and always flexibly tailored to your needs.
Thanks to our global network, implementations and project executions are always done with trusted Fidelix partners locally.
3. Hardware supply and stock
We have a small stock in Belgium, which allows us to ship replacement pieces, small number of additional modules and demo equipment quickly. For the demos in the Benelux area, we pre-assemble the hardware for you, which means that all you need to do is unpack it, plug it in and enjoy the training.
For larger projects, we ship from Finland, where we have good availability all year round. Because we have everything on shelf for our own installation projects non-stop, we are able to deliver all equipment for your projects quickly and reliably.
4. Programming our controllers

Our software and programming environment are becoming increasingly more intuitive and we're adding new templates all the time, and the interface is currently being optimized for easy template-based programming. This makes programming interface easier and quicker for you. What is more, we offer continuous and hands-on training and support for all projects. Our aim is to help you learn the ropes and become confident with the Fidelix programming interface in the long run.
You're never alone with our products and we make sure you get all the programming support you need. Our dedicated libraries are also at your disposal, if necessary.
Our architecture is very open and allows all kinds of projects to be programmed. Instead of having multiple dedicated controllers per application, Fidelix only has one or two controllers – with a wide range of dedicated templates for them.
We have our own software-environment for programming our controllers, which is easy and clear and template-based. If you want delve deeper and create your own code, we follow the industrial standard IEC61131-3 language, which you can utilize.
5. Support
We offer hands-on support and stand ready to serve all our client's personally. You'll always have a dedicated point of contact with your project who will be there throughout the project and beyond to help you with all your questions.
Our international team is here to guide you to a partnership with us.
You can also fill out the form below.