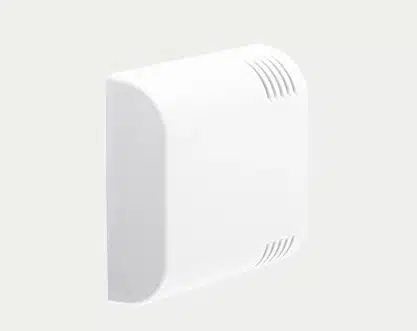 FX-WMBUS-E2-CO2
Wireless M-BUS indoor temperature, humidity, & CO2 sensor.
Measure to manage
The Fidelix FX-WMBUS-E2-CO2 room CO2, temperature, and humidity sensor is a plug-and-play room CO2, temperature, and humidity transmitter. Great care has been given to design a sleek, good looking device with high security and performance. The device has 2 antennas for maximum range in both vertical and horizontal directions.
The battery level is continuously monitored and a low-level warning is issued when battery is nearing depletion. The CO2 sensor is also monitored and a warning is issued in case of a failure.
Designed for indoor use over wide temperature range
Temperature range: -40..85°C
Dimensions: 80 x 80 x 25 mm
Power supply: 3.6V – AA battery
120 sec interval
OMS standard wireless M-Bus
Files