Fidelix supplies flexible building automation in Tripla
Since being founded in 2002, the Finnish company Fidelix has been a competitor for large international players and has developed its own smart, reliable and widely compatible building automation system which directs building technology to work based on needs and optimising energy consumption.
Fidelix was chosen as the building automation system for Tripla, a complex of three blocks and underground premises, situated in Central Pasila. Tripla is the single largest project in the history of its developer, YIT, with a total value of almost 1.5 billion euros.
We are involved in all areas of Tripla: in the recently completed Mall of Tripla, parking facilities and Pasila's new train station as well as in the office buildings, homes and hotel being completed next year," says the Business Director of Fidelix Oy, Ilkka Vähämöttönen.
The largest building automation project in Fidelix's history
The cost for the building automation project in Tripla is approximately six million euros. Annually, Fidelix is involved in around 500 building automation projects. There are 230 employees and offices in 13 different cities.
"This proves how effective we are. As the developer of Tripla, YIT appreciates the work and expertise of our organisation; we have references from large-scale projects and from all over Finland," Vähämöttönen says.
Fidelix has implemented over 10,000 renovation and construction projects of different sizes. Our systems can be found in residential and office buildings, schools, hospitals, hotels, warehouses, care homes, parking facilities and shopping centers.
In Tripla, the content of Fidelix's contract is similar in all areas: building automation, automation cabling and active participation in building automation planning.
The similarities in content only apply to the contract definitions, as Fidelix excels at customizing open interface-based building automation systems according to the needs of the users and the premises.
"It gives us a competitive edge. In addition, according to the feedback we have received, Fidelix offers superior usability for end-users. Ease of use and remote management increase user satisfaction and reduce maintenance costs," says Vähämöttönen.
"Customers have also praised the agility of our operations and our service-minded attitude."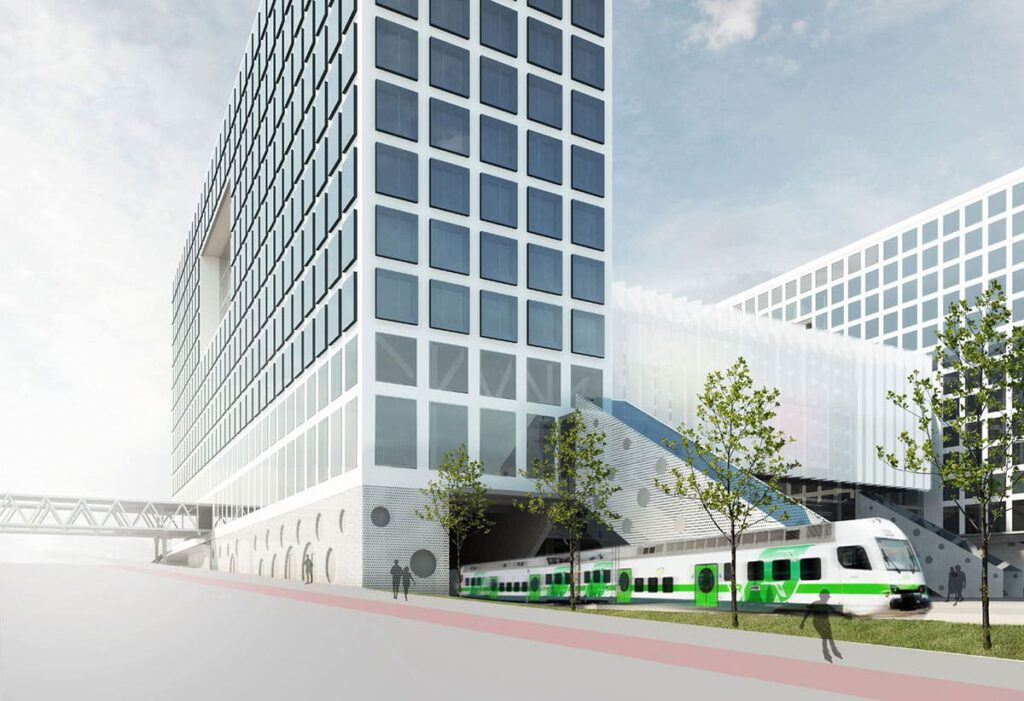 A strong role in planning and on site
The Fidelix system in the TRIPLA complex is decentralized and modular.
"Decentralisation means smaller blocks that are easier to use. Future maintenance and modifications are also easier to implement," Ilkka Vähämöttönen says.
Fidelix's role in the Tripla building automation project was exceptional.

"We were involved in the project from a very early stage, and together with the specialist planners we were able to influence the content of the building automation. The planning has been carried out in our different offices. Up to 40 people have been on site working on building automation, and we have personally managed the work. This is an important reference for us from a very large project."
"We have invested in project management; we have a workstation at the Tripla site, and we can provide real-time information to the customer about the progress of the project," Vähämöttönen says.
Modern tools of building automation
The role of data monitoring grows in unison with the need to build even more energy efficient, safe and user-friendly properties. The data generated by building automation systems can be utilized in services that optimize the energy costs and indoor climate conditions of buildings to meet users' needs. Fidelix also monitors the building technology processes in Tripla by utilising their new Flow_how analytics platform.
When Tripla's building automation project will be completed in autumn 2020, Fidelix will ensure the system's functionality during the warranty period. In the future, Fidelix's local maintenance will support the end-user and make necessary changes. Maintenance is made easier through the secure remote access to the building automation system through a browser, as this makes changes significantly more efficient and quick.
"We are involved in all areas of Tripla: in the recently completed Mall of Tripla, parking facilities and Pasila's new train station as well as in the office buildings, homes and hotel being completed next year."